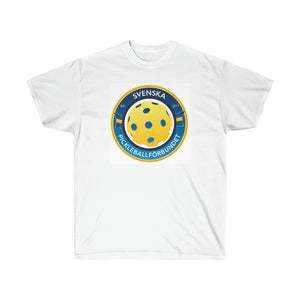 ❤️ Let the world know how much you love pickleball. Pickleball is a sport that's sweeping the globe, and it's no different in Sweden. The Swedish Pickleball Association is the principal organization involved in promoting pickleball throughout Sweden and northern Europe, encouraging all Swedes to join this social, active, and addictive sport. This piece of apparel, featuring their beloved logo in signature blue and yellow Swedish colors, let's everyone know that you are proud to be part of this growing community! So don't be shy—let people know that you're a proud pickleballer (or just plain proud Swede).
This apparel is a great way to show your pride as a member of their organization or as an avid pickleballer.
Made from a soft fabric blend for comfort and durability, this item will last through all your pickleball adventures without fading or shrinking—and it's machine-washable too!